Nearing the end of exams and approaching winter break here at the Creighton School of Law, I was noodling around the Internet looking for holiday-related demographics for my final 2040 post of 2014.
My first discovery had to do with…
Mail
This holiday season, the Postal Service is estimated to process more than 640 million cards, letters and packages on its peak day – up from 607 million last year.
And these USPS millions don't include FedEx's peak-day 22 million or UPS's peak-day 34 million packages.
In the Thanksgiving-to-Christmas window overall, the Postal Service expects to ship 12.7 billion letters, cards and packages.
Much of this increase in volume is driven by online shopping – and shipping.  It puts me in mind of how my Dad used to describe getting stuff by mail that had been ordered from the Sears catalogue when he was growing up on a farm in 1930′s Iowa.  Sometimes it is true that the more things change the more they stay the same.
Which brings up another trend…
Shopping
Back in October, Nielsen predicted that holiday spending would be up by almost 2% this year over last.
Nielsen identified "multicultural consumers" as accounting for 43% of this rise in spending (17% African-Americans, 13% Asian-Americans, and 13% Hispanic).
And it even projected the categories of purchases each group is likely to concentrate on: online, grocery, toy, electronic, etc.
No surprise after the Mail numbers above – online shopping is the highest growth category.
Nielsen also has gift purchases scoped out by age group – Millennials, Gen X, Boomers, and the Greatest Generation. In that spread, all generations except the Millennials favor buying gift cards; with Millennials gift cards are edged out only slightly by tech items.
Finally, last but not least…
Christmas Lights
Christmas lights in the U.S. at this time of year are ubiquitous to the point that they are discernible by NASA satellites. Approximately 20-30% more light than normal is beaming out from cities – and that increases to 50% more light from the suburbs.
NASA tracks the light coming from Earth because changes in light reflectivity are related to heat absorption, which is related to climate change.
NASA also views understanding energy usage patterns as important for developing conservation policies.
According to NASA research physical scientist Miguel Roman, "What's really difficult to do is to try and track people's activity patterns and to understand how this shapes the demand for energy services. We can now see pieces of these patterns from space – when, where and how often we turn on the lights."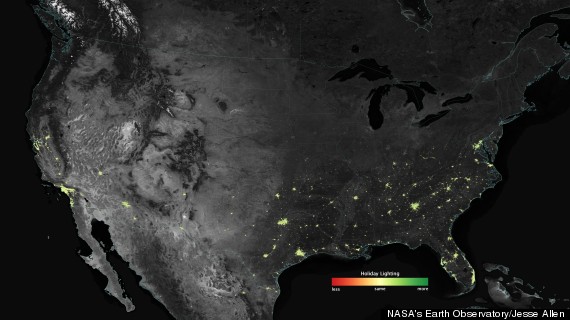 (Regarding the map, it's not that there aren't any cities in the northern and central parts of the country, it's that NASA filters them out because snow intensifies the light.)
It is sometimes scary how much of our lives is observed, quantified, and estimated.
But when information about individuals coalesces into data patterns that describe us as a group, to me that's more like self-knowledge on a collective level.
And on that note, signing off until January.
Best of holidays and Happy New Year to all from the 2040 Initiative.
Palma Joy Strand